Information and advice for animals on board
Casting off on four legs
Animals are welcome on board!
Just follow the simple indications to enjoy a pleasant crossing with your pets.

Buy them a ticket and remember to bring a muzzle and lead.
During the crossing, put on their collar or harness so as not to risk losing them, and make sure they always have your mobile number with them. It can also be useful to bring with you a photo of your four-legged friends: it will be easier to find them again if they decide to take a walk by themselves!

Before departure, they will need a medical examination. You can also ask your vet about any particular requirements of your pet depending on your destination.
Useful and Indispensable Treatments
Here are useful and indispensable treatments for your pets:
basic vaccinations (distemper, hepatitis, leptospirosis, parvovirus),
antirabies vaccination (for certain destinations),
worming against intestinal parasites and protection against fleas and ticks.
Don't forget to bring with you a dish for food, enough food for the crossing and sand for the toilet.
Abroad, local authorities may ask for the European passport, a microchip, a medical certificate of good health and the obligatory vaccinations booklet (the antirabies vaccination must be given at least 21 days before leaving).
Certain cabins are equipped to welcome your four-legged friends: going to Sardinia, Corsica and Sicily with them will be even more fun. There are cabins for two or four, with or without porthole and with linoleum flooring, sanitised to ensure maximum cleanliness.
And for the comfort of your furry friends you will find in the cabin a sanitised anti-odour mat and a travel dish.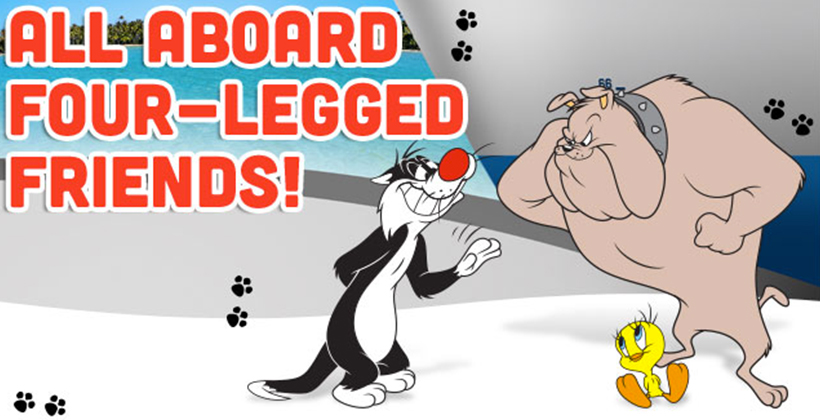 CABIN WITH ANIMAL ACCESS
You can take up to 3 pets in your cabin.
There are a limited number of cabins, so check availability. If you don't see the indication "CABIN WITH ANIMAL ACCESS" it means on the date you have chosen we no longer have this kind of cabin available.
The outer decks of the ship are available for their walks and needs; only certain communal areas (bars, restaurants) are excluded.
BRING THEM WITH YOU, ON MOBY, TIRRENIA AND TOREMAR SHIPS YOU CAN!

Pets are not allowed to enter cabins (except cabins with access for animals), the armchair saloon and communal areas; they are allowed on the external decks of the ship and, where available, in the special areas as long as space is available.
Take advantage of the Four-legged friends Formula: book a cabin for you and your pet.
Book Now