Information and tips for vehicles
Take your vehicle on holiday
Want to travel with your vehicle in comfort?
Rely on MOBY, Tirrenia and Toremar ships.
Vehicles will be taken on board according to the indications of the ship's Captain and may be placed on any of the decks of the ship's garage.
Remember which deck you are parked on, leave the vehicle in gear, pull on the handbrake and lock the vehicle. This is very important!
For safety reasons, you may not access the garage during the voyage. We advise you to take with you all you need for the trip.

If your vehicle is powered by liquid gas (LPG) or methane you must communicate this when you book and arrive for boarding with your tank half empty, telling check-in staff what kind of fuel you use.

For disembarkation, carefully follow the announcements, paying attention to those concerning the garage.
Dimensions of vehicles
The lengths of vehicles must be considered "overall", including towing hooks, drawbars, boots, bicycle racks.
Bicycles, canoes, kayaks and surfboards, if not carried on the roof or rear of the vehicle, must be booked when you buy your ticket.
If your vehicle is more than 220 cm high communicate this when you book, otherwise there is no need to give the height.
Length of the vehicle
If you carry behind the vehicle bicycles, bicycle racks or towing hooks, measure the overall length of your vehicle and book the category corresponding to this length.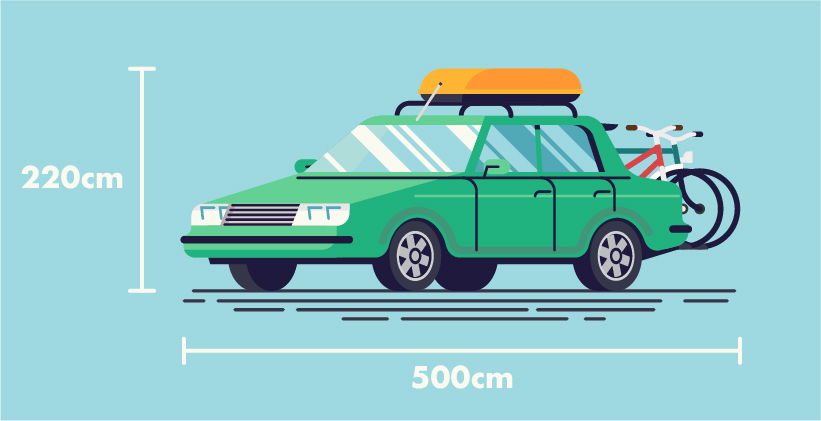 Height of the vehicle
If on the roof of the vehicle you are carrying trunks, canisters, canoes, kayaks, bicycles or bicycle racks, measure the total height of the vehicle and book the category corresponding to this height.